Last week I was one of four panelists on the Asialink Business event How the best 'win in Asia': Business models from companies that are succeeding in Asian markets. The request was to share the learnings and how-to's in taking a business to Asia. I have led Asia expansion both at an ASX-listed Corporate level, as well as a private company starting from day one in founding Digivizer. Being successful in doing business in Asia starts with making it personal and taking a long term view. I am sharing the key insights I shared in this article.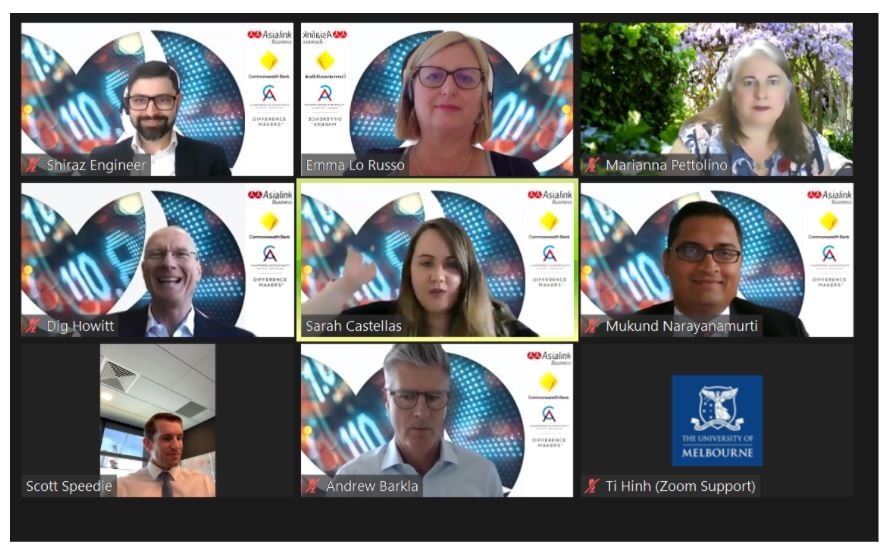 Being successful in doing business in Asia starts with making it personal and taking a long term view.
My passion for doing business in Asia started when I was President & Chief Operating Officer of ASX-listed Australian technology company Altium in the mid-2000's.
We transformed what had mainly been an Australian company into a global one, with 97% of its revenues coming from offshore – much of that new growth coming from Asia, China in particular.
On quarterly visits, I literally saw the cities and companies in the region grow, mature and globalize at a rate greater than anything I saw elsewhere. Forums, smart phones, mobile commerce – all were actively engaged with by a population intent on being successful. While we were still tethered to LAN cables in our offices in Australia, Europe and the US, China and Asia were going mobile and growing new businesses.
It was then that I realised Australia represents only 0.33% of the world's population. Asia has about 60% of the population, across 48 countries, each with its own culture, language and nuances. By 2040 more than 50% of the world's GDP, and over 40% of the world's consumption of goods, will be in Asia.
This is a massive opportunity for Australian businesses.
And in seeing that opportunity in the speed of mobile and smart device usage and the prevalence to connecting, engaging, sharing and buying online, I co-founded Digivizer 10 years ago with these objectives and ambitions in mind: a global focus with a strong eye to Asia – in other words, to be where the growth is.
Digivizer now offers digital marketing analytics technology and agency services across Asia and the rest of the world. We've done so from our first few weeks. We now have a physical presence in seven countries, and serve a total of 14 countries in Asia. We work with companies that include Microsoft, Lenovo, Google, LinkedIn, Thinxtra and Roses Only, to name a few, but we also work with SMEs and startups – in Australia and Asia- as well.
So my early exposure to the opportunities in Asia was at an ASX company, but those opportunities apply equally to private companies, including SMBs like Digivizer.
Here's what I've learned along the way:
Personal relationships matter more in Asia than elsewhere. Trust, respect, cultural awareness, a commitment to business – all must be established, but when you take the time to do this, investing your personal time and educating/inviting/involving stakeholders, you can accelerate success.
Invest in-region – through personal understanding, and hiring the best local talent. Best talent means spending high in-market.
Localization is much more than translation – you need to understand each country's nuances, public holidays, celebrations, language, phrasing and location.
Grow people to grow your business. Have development plans for your people, to keep, grow and retain them. Remember, they will be mobile as well, moving between countries, and even to Australia, as their careers develop. They are hungry for success, so ensure you help them be successful.
Build cultural awareness across your entire organization – time zone awareness, cultural learnings, about your people are so important for removing any "HQ" mentality. Cultural business awareness has to be two-way.
Think digital first. Customers in Asia often don't have the same attachment to bricks-and-mortar brands as we do in the western world. Some of the most successful new businesses and customer engagement strategies are entirely built on digital, and Asia is a data-rich, data-first region. There is a lot of comfort in digital banking, app usage, 3-way marketplaces, as examples.
Use technology to the maximum – Covid has accelerated this. We operated as a matter of instinct and habit on Zoom, Team and Google before the pandemic, but overlaid work practices. Use technology to promote mutual understanding, and as importantly, develop your organization's culture across regions and language. It enables you to run cross-team projects, to share wins, create buddy systems, and more.
Ensure you have strong banking and HR contracts that are relevant to the country and money runs smoothly. The mechanisms of doing business have to be right, and well-oiled.
As a private company, you don't have the luxury of patience – you don't have the cash flow or resources! You can, though, still be successful – with the best-possible talent, a digital focus, and a regional, global view from day one.
Thank you to fellow panelists Dig Howitt, CEO & President, Cochlear, Andrew Barkla, CEO, IDP Education, and Scott Speedie, Regional Head, Asia & New Zealand CEO Singapore, CBA, and also to Mukund Narayanamurti, CEO, Asialink Business, and the Asialink Business team.