We have exciting news to share! We've been appointed to LinkedIn's global Marketing Partner Program, making us the first Australian-based company to achieve this certification.
We're absolutely thrilled to have our real-time analytics technology certified by LinkedIn after three months of thorough testing. LinkedIn's certification is validation of how our technology, insights and expertise have driven success for businesses around the world that are using LinkedIn to generate more leads and revenue.
This partnership is a huge win for digital marketers, in business of all sizes, who are looking to connect with, engage with, and sell to customers on LinkedIn.

By integrating with LinkedIn's Marketing Analytics and Ads API, our platform gives you a complete view across organic and paid marketing campaign performance. You can easily compare LinkedIn program performance alongside other major social media and search platform channels, to see which platform is driving the most value and conversions on your websites.
At Macquarie Data Centres, Krish Ruban, Head of Marketing, uses our platform to measure the performance of their digital marketing program across multiple channels: "Especially in the B2B space, using the Digivizer platform puts our data into context to deliver us with multi-channel insights. I know what's working, all the time. Better still, I know why and how programs perform well. That's a better use of my data, and helps us validate our investment in programs on LinkedIn."
I'm proud that this partnership with LinkedIn recognizes the value we offer in providing a single-source-of-truth across multiple social media and digital marketing channels. We're making this easily accessible and affordable to all those involved in a marketing ecosystem. It provides the real-time trust and governance that organizations need to understand the returns from their end-to-end digital marketing investments.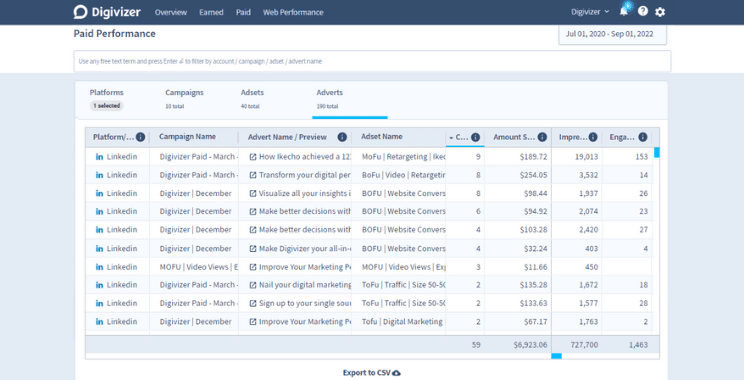 Watch our partnership video to see how to leverage insights to get more leads and sales from your LinkedIn investment.
If you're a digital marketer looking to take your LinkedIn advertising campaigns to the next level, this partnership between Digivizer and LinkedIn delivers new benefits: new users of Digivizer and LinkedIn that spend US$500 (or the local equivalent) on LinkedIn Advertising will get US$500 added to their LinkedIn Ads account. T&Cs Apply.
To unlock the value of LinkedIn for your business, book into one of our 15-minute LinkedIn insights sessions here.