Reflections on what 10 years represent after leaving corporate and committing to the entrepreneur's life…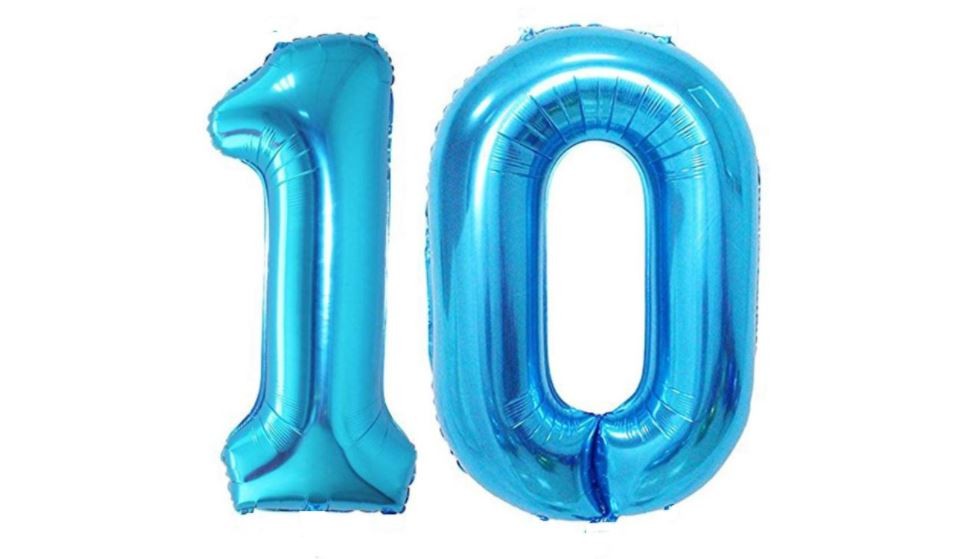 Ten years ago I left the safety and good money of corporate c-level income and co-founded Digivizer with Clinton Larson. Clinton and I had worked earlier together at Macquarie Bank and when you know someone is super-smart and a good person, it makes it easy to decide to start a business with them. Clinton had also studied data analytics, lead a number of Customer Insights & Analytics team and had been COO of Memetrics, focusing on driving website performance and brought significant experience in managing and harnessing large customer databases to drive significant wins for businesses taking a data-driven marketing approach.
I had spent the previous five years as President and COO, at ASX-listed electronics design software company Altium and saw the start of the global growth in intelligent devices first hand. Altium's customers were designing and manufacturing them on our software, and many of the world's products were beginning to be designed, not just manufactured in Asia, China in particular as the movement from " imitation to innovation" was well underway.
Watching first hand the speed of change and the phenomenal growth of China, now recognised as global economic power, together with a number of technology advancements driving innovation within smart devices, it was a powerful motivator for me to unlock the opportunities this created.
Specifically, as smart devices became more prolific, and social media had platforms to accelerate their growth, consumers became increasingly empowered. Consumers now engaged and interacted from wherever they were, whenever it suited them, on their mobile phones. And there was a lot of new insights able to be gained from the billions of digital footprints that were being left across social, digital and device usage.
I was also an early adopter of Twitter, Facebook and LinkedIn (and subsequently of all social platforms), and travelling often gave me new perspectives on how fast they were growing and the relative population infiltration and scale to what previously could only be reached through traditional media. The 100's of millions of users in various platforms and forums (now billions), were far greater than the just over 20 million Australian population. That in itself was astonishing, but with digital and social being able to create active conversations and engaging relationships, it opened up a new world of customer engagement, marketing and business opportunities, including easier global reach.
Given all businesses everywhere are looking for more efficient and effective ways to acquire, cross-sell, retain and drive greater loyalty and referrals, it seemed clear that with digital opening up opportunities everywhere, there would come the need to measure effectiveness, in real-time, across these multiple channels, at what we now call the speed of social, managing and analysing millions of pieces of data.
Thus, we opened our doors to Digivizer on 15th October 2010, with the promise of helping businesses grow through a better understanding of their customers and to help them gain a greater ROI through digital channels.
Defining a future
While our core vision for the company hasn't changed – to help businesses grow with a better understanding of their customers and a greater ROI on their digital marketing investment, we have pivoted and expanded the platform coverage and offerings as they themselves changed.
This has become increasingly important and relevant over the past 10 years: customers are now researching, buying, selling, influencing companies, markets and governments. We are moving more and more of our transactions online – both B2C and B2B – with increased acceleration due to COVID-19 in the past 10 months.
As organizations have understood the need to find better ways to acquire, grow and keep their customers, it has become increasingly more expensive to do so in digital without an effective digital strategy that uses the customer engagement data found throughout the digital marketing experience.
Key growth milestones in past 10 years:
Initially it was Facebook, Twitter & Linkedin Social that we analyzed and worked with. Our platform now includes Instagram, Youtube, Google, Influencer tracking, hashtag tracking, organic search and web performance, across owned, earned and paid media
Identification and permission-first tracking of influencers (across all their social) working with brands in platform, after recognising that people were following, engaging and sharing posts at a faster growth and higher engagement rate than they were of brands. We were early in identifying influencers, and now the ability to track them with permission is fully supported in our platform.
Incorporating and then spinning off a new company goto.game in 2017, after seeing the growth of gaming and esports as an interest area and driving significant engagement and a different type of content creator emerge.
Think Global from day one. We started in Manly, have grown out of 2 other offices and expanded across Asia and global, with over 60% of our revenues now earned outside of Australia. This focus on global has helped us serve some of the world's largest multi-national companies, attract talent due to our footprint and customers, and has also helped with foreign exchange rate wins. It is meant we measure our success on global terms not the smaller Australian market.
Starting with enterprise technology and then realizing that we were limiting our growth to a smaller number of businesses who could afford us, we pivoted to deliver our platform via SaaS, opening it up to thousands of users that could not have been served previously.
My biggest learnings (some painful!):
Corporate is safe, starting and growing a business is hard work. Much harder than I realized. I still don't earn (by a factor of 4) what I did in corporate and yet the excitement of the challenge and genuine rewards that come from starting something that didn't exist, building an engaged team that believes in your vision and helping thousands of customers is incredibly motivating and what I feel I will reflect upon as my most fulfilling period. If I am honest, I don't feel the sense of achievement I did earlier in my career where success was more predefined and incrementally achieved, but I love that it is me who is defining the line of ambitious success and the strategy to get there. And the challenge to realise the value in invested by a future cash-investment or acquisition event, or in the value we create ourselves.
Building a platform based on using formally negotiated API agreements in a fast changing world, can put you at risk from their whims and directional changes. Initially our model was built around ubiquitous free data, but as those models have changed, privacy laws have changed, paid advertising on platforms have grown, we have had to be in a continuous state of fast innovation and deployment. This ability to identify and fast move is now deeply embedded into our culture and I believe is why we are still here today, and the hundreds of companies that started in social and digital media analytics around the same time as us, are not.
It's never too early to charge for value. We started doing so in our second month, using our embryonic technology to deliver unique audits to larger companies about the state of their data and the insights they were missing. Bootstrapping sharpens your focus and gives you purpose.
Be prepared to burn your boats – we couldn't do enterprise analytics platform development and SMB software at the same time, at the size we were. We significantly grew once we put ourselves behind one platform strategy – a SaaS one for everyone – and although late into our journey (we launched our SaaS platform late 2018), it was the best decision yet
Be good to people everywhere and help them grow their careers. The world is small and after 10 years, so much of our business continues to be referred from previous and existing customers and employees. And now our business is larger, we have been able to help and invest in other startups and accelerators to fuel their own innovation. Feeding and supporting the ecosystem grows everyone and everything, including economies.
Running agency services (as requested by our customers) to take advantage of real-time insights and the software business, can be both rewarding and challenging. Like all cobblers, our own shoes are often the last to be soled – we know exactly what clients and agencies need, and we scope, test and use our platform ahead of releasing. There are huge advantages in "eating your own dog food", but when you grow, you keep putting your best people on the biggest, most- immediate client revenue opportunities. When you double this with mostly boot-strapping, short-term opportunities can easily take precedence over longer-term opportunities. This tension is recognised and we happily support the two business models as we learn so much in helping our customers of all sizes grow and we accelerate that with our agency services taking advantage of our platform. But it remains a constant challenge to ensure we put our best people to marketing our platform.
Raising money is hard and distracting. I wish I had raised more money when I first raised (which was incredibly fast and easy and I should have put more time into!). We have mostly bootstrapped since which has plenty of upsides around our autonomy, but now I see that having given away more at the start, to have greater cash now to help us scale a SaaS platform, would have helped us grow faster.
Don't give away too much sweat equity. It is a balance to know how to engage talent at the start when you can't pay them, to allow for enough equity to reflect longer working paths and manage dilution further in your journey of growth (and fundraising).
Resilience is a learned skill. I'm so grateful for so many good people who made significant contributions during our first 10 years. It can sometimes be painful to recognize that some people are better suited to specific stages of growth, that is, the people who helped you get to here might not be the people who help you get to there. Being in a startup, or being part of a migration from startup to early-growth, is not for everyone. Growth is not for everyone – some of our earlier leadership team did not like the larger company and changing pressures
Insights are interesting and valuable, but you need to build in capability and actionability of them to be of value to organizations.
While I am grateful for my MBA (good discipline, great people you meet, and it was my final strategy paper that I raised money for Digivizer around), nothing provides greater learning then launching a start-up and growing. We joke at Digivizer that every 6 months equals a mini-MBA. We are in continuous learning mode and one of the huge upsides of understanding digital and analytics is that everything can be measured. Keep doing more of what works, stop doing what does not (or does not fast enough).
Culture is everything. You cannot do it all yourself. When you are scaling fast, burning boats or pivoting, you have to have a culture that supports this level of disruption, changing roles and flexibility. Hiring smart, talented people who get things done, are infinite learners and not arseholes, are key to protecting the vision but not being afraid to keep getting better at the ways we can achieve it.
Back to the future
To predict precisely how the next 10 years will unfold would be foolish, but I am confident that with growth and variety in the number of platforms, smart devices, knowing what is automated and human engagement together with the growth in digital advertising spend – organizations will need to increasingly understand their customers and what matters to them. They will need to invest in platforms that help them know how to drive the greatest measure of delight and ROI. Digivizer will continue to spot these trends and insights and will answer this increasingly valued need of businesses.
Whilst the way we engage and work with our talented employees is changing, one thing I am confident of is that it will be our amazing employees who drive our growth and I look forward to rewarding and celebrating success with them.
As for me and the next 10 years – I have a lot still to drive and deliver for Digivizer. I know why investors will often back a serial entrepreneur, the lessons you learn are invaluable. And while some lessons were painful, and some I would have done differently (and will do differently if I start another business), I remain a committed learner and am passionate about returning value to our early investors and employees, and importantly (and with great excitement) to help thousands of businesses grow and to help them gain more from their investment in digital marketing.
Thank you to my family who have backed me, and to all of you who have supported and encouraged me over the years and who continue to believe in our continued growth and success.
This article is also published in LinkedIn.