The debate about the NSW Government's plans to demolish and rebuild two of Sydney's sports stadiums – the Allianz Stadium, in the SCG precinct, and the ANZ Stadium (formerly the Olympic Stadium) at Homebush – is predictably-heated: great politics, appropriate debate about investment across the State, and a lining up of the two camps for and against.
And in all this sound and fury, the future – esports – has been ignored.
Omit esports from the business case, and Sydney runs the risks of seeing the huge opportunity and upside of future esports audiences attending major events in major Sydney stadiums, and the economic benefits it represents in attracting overseas visitors and continuous audience revenues, pass it by.
The party-political "either-or" rhetoric needs to be replaced an economic argument based on long-term opportunities which didn't exist when both stadiums were built.
These economic benefits to Sydney and NSW do extend interstate: as an example, 40% of the 20,000+ attendees who attended last year's PAX event (in Melbourne), the largest gaming event in Australia and the largest penny-arcade expo outside the United States, were interstate visitors. In America, it's common for half of those who attend gaming events in any given state to fly in from others or overseas.
Go where the audiences are
New stadiums, built for the future, will act as catalysts for additional revenues. Let's look first at audiences, and where they are. Here is a summary of sports attendance for the main Australian codes relative to esports: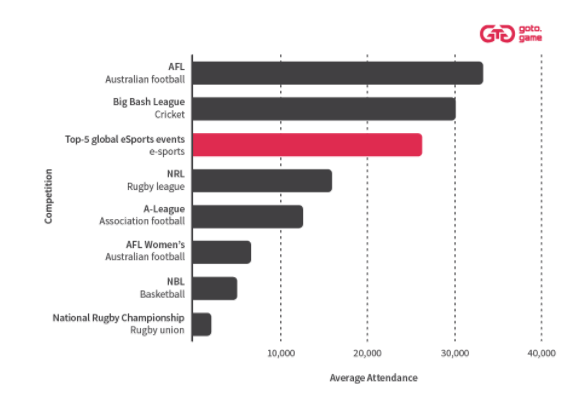 Esports audience sizes inside stadiums can only grow. At last year's Intel Extreme Masters held at Sydney Qudos Bank Stadium, 7,000 fans were present in person, in a venue only partly available to the organizers. However 8 million people around the world watched the main day's events live online and within 3 weeks, earned them 92 million impressions.
As the following chart shows, while bigger venues have the capacity to attract more people to attend esports in person, esports already dominates in global viewing numbers: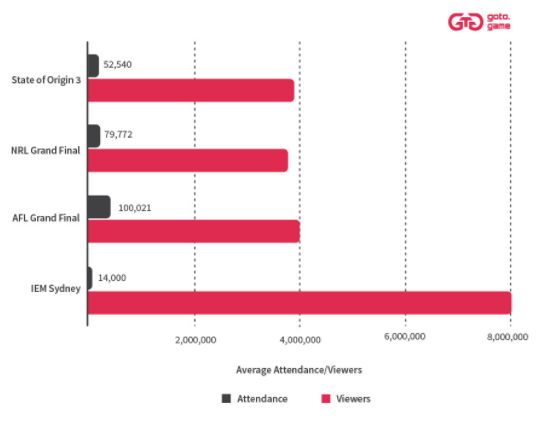 While care is needed with these comparisons – it's not possible to break out how any people outside Australia watched the Australian sporting codes, nor the proportion of those who watched IEM output based here in Australia – one thing is clear: esports attract greater audiences and a larger number of overseas audiences. This is why we need to advocate early for our new stadiums to support these type of events and digital infrastructure and support required.
Now on to the positive effect on additional revenues that we suggest result from having stadiums built for esports.
Media rights for esports events are forecast to crest US$340 million by 2020. They will act as new centres of gravity for additional pay-per-view and other forms of new media, all driving additional revenue around online participation advertising, content, merchandising and more. We should not underestimate the power of the tagline "…streaming to you from Stadium Sydney."
Aussies have always loved our sport and music, but the question remains: will these numbers on their own sustain the Government's proposed $2.5 billion investment, a policy that now seems to have ministers running for cover?
We think so. According to Statista, the size of the APAC esports market is worth US$406 million – 36% of the global market. Broader-still, gaming is worth US$51.3 billion in the APAC region, half the global figure of US$116 billion as reported by NewZoo. And with two-thirds of all Australians active gamers, we are seeing the economic impact of this market, with consumer brands and sports brands investing in the lucrative 25-35 year old demographic (nearly half of which is female). The Australian games industry already generates over $3 billion a year.
Overwhelmed with figures? You should be: with esports, they're always big.
The largest-ever esports event – the Intel Extreme Masters Final at Katowice in Poland in 2017 – attracted 173,000 attendees. That's twice State of Origin, 73% larger than either of the major codes' Grand Finals, and 100,000 more than this year's Super Bowl.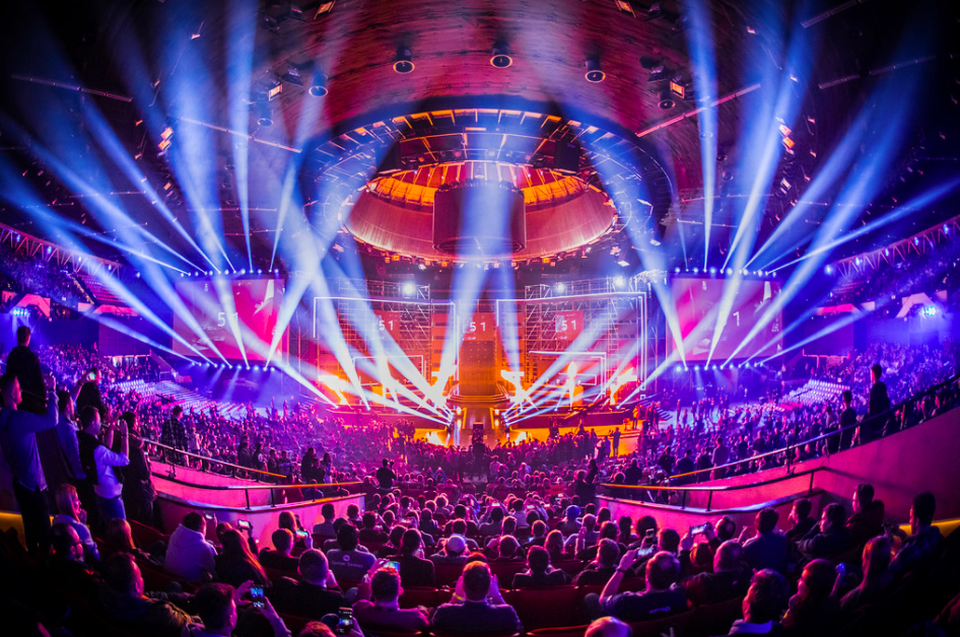 If we consider the positive economic impact of hosting such an event, attracting teams and fans from interstate and overseas, we can see each major esports event paying for any investment in the new stadiums. Peter Fitzsimons, in his opinion piece in the Sydney Morning Herald this week, questions whether the proposed investment can pay for itself in two years. With the detailed data behind the indicative summaries above to hand, that claim looks reasonable – and certainly deserves more analysis.
New thinking for new stadiums
Thirty years ago, when both stadiums were in planning, neither esports nor the Internet infrastructure that enables it existed. New thinking beyond steel, concrete and turf is now needed. The technology, screens and streaming infrastructure (especially super-high-speed Internet connectivity) to support interactivity, social media sharing, and new revenue generation requirements, must be part of any business case and any development planning. Tomorrow's stadiums must be able to stage multi-purpose events that can scale. Inevitably, China is ahead, with the purpose-built Zhongxian stadium set to seat 7,000 people with significant investment in the digital infrastructure required to leverage their much larger online audiences, and our cousins across the Tasman in NZ already see the light.
But here's the good news: Sydney is already on the esports map in the list of go-to cities. Hence why it is critical to ensure it stays there and our political debate incorporates the numbers and impact that this opportunity represents.
So to everyone in this debate, don't ignore the future. Esports are already racing away from merely being options that fill the empty venues between sports events and music concerts to becoming the events that underpin stadiums' revenues.
Esports events will fill any new stadium in Sydney, and attract global online audiences (and revenues) in their millions as long as the design and infrastructure supports it.
The government has an opportunity to consult with a new breed of experts, and take soundings from this vibrant and burgeoning industry sector, to tap into the new generation of sports fans. Research will easily show the defendable business case, that this type of new investment in Sydney will attract economic benefits that can be invested across the State, bring vision to the thinking, and consider stadium options that support today and the future.
It's time for Sydney to look to the future, and when it comes to stadiums, that future must include esports.
This article is also published on LinkedIn.