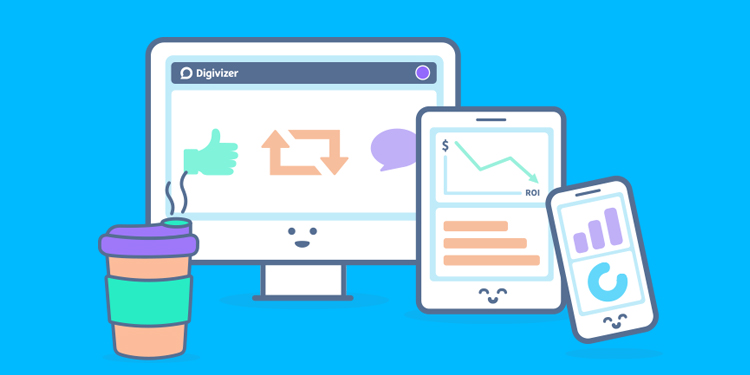 At Digivizer we continue to learn so much from providing services to our enterprise customers. We've spent a lot of time with customers like Microsoft, Lenovo, Intel, Barilla, McWilliam's Wines, Snapfish, and more.
We're grateful for their continued support as we broaden our range, and for all that we have learned and grown together.
Increasingly, we've been asked to help smaller-sized businesses. We still want to look to deliver services like digital creative, paid media and analytics at different budget levels.
We also see the much larger opportunity to help empower and arm all small-to-medium businesses with the same insights that we provide our enterprise clients – and that we use ourselves to our own advantage.
We're passionate about helping all businesses easily understand their investment in digital marketing, whether that be organic, earned or paid. Businesses need to know exactly how they are performing across all their social and search channels. We want to make this available in an affordable way to every business.
We want to make it easy for businesses to do more of what works, and less of what doesn't.
I'm excited to share with you that for some time now we've been building a new product. It brings all our high-tech, big-end-of-town data crunching into a much more streamlined, accessible, affordable and valuable experience.
We have been testing and gaining feedback from our existing customers and are now ready to extend a beta version to more businesses.
For a limited time, we would like to invite you to register your interest to join our private beta at no cost or obligation to you. The more it's used, and the more feedback is shared with us, the more we learn and understand what is important to you, and the better the experience for everyone becomes.
What does Digivizer deliver?
The Digivizer app brings all your digital data – paid and organic – into one live interface. That way, you can see what's working on any given channel at any given time.
Digivizer gives you live data and insights to help ensure you deliver the right message, on the right channel, at the right time, to drive measurable business results. We answer questions like:
How am I performing?
What's working and which platform?
Are we doing better than previously and where is doing better?
How much am I spending at any one time and where?
How am I performing against my objectives:

Impressions
Engagement
Video Views
Lead Conversion
Sales

How can I make sure I am not wasting my money as I am spending it?
How can I get this information easily and in one place?
How do I make my reporting easier?
One platform
Before now it's been expensive – in time and tools – or just impossible to get an easy, single view across all platforms in one place.
We hear from our customers how painful it is for them to co-ordinate across each social and search platform. This has been made harder with the changes each platform makes. They move things around, change their algorithms, change what you see, and what things mean.
With Digivizer, you can easily connect all your paid accounts across social and search into our platform, see key insights and make easy comparisons. Today our product supports Facebook, Twitter, Instagram, YouTube, Google Adwords, and Google Display.
Real time
A key pain point for many customers is that they find out how their investment in digital is performing weeks and months after they have spent the money. This is far too late to action any learnings.
Traditionally, small businesses are forced to access each platform manually and pull out the data, which takes hours. Then they have to interpret it, cobbling together a single report to see how their investment is working for them. Alternatively, they look at the final delivery point of lead or sale, and which individual platform has delivered it.
By the time you've been able to get the answers, the chance to adjust your strategy has passed. If it's not immediately obvious with a big spike or dip in the numbers, then often you're left frustrated, feeling like you've spent money and time without the ability to influence the outcome.
Having one view of cost-per-lead versus a view of what is delivering best value for money and what's most-valued by customer, are missing. That's what Digivizer can provide.
Easy to use
With Digivizer, you'll be able to see how your ad campaigns are performing graphs and tables that are easy to control and explore. You'll be able to add and remove the variables you choose – like date range, platform, objective.
When some part of your campaign is working really well – or not working as well as it should – you'll be able to see it in the data and jump right in to start figuring out why. Want to take the long view and see how your campaigns have performed against each other? You can do that, too.
Best of all, you won't have to just invest your money and cross your fingers for three months. You can see what you're paying for as it happens. This gives you the freedom to turn it up, or turn it off, as you choose.
Affordable
We're working to ensure the best of our technology is made available for the lowest per month price so it can be available to all businesses, with all your owned, earned and paid social and search media data and insights at your fingertips.
Over time we will continue to add a greater number of platforms and insights to cover the broader digital marketing funnel.
It's an exciting time for Digivizer. We can now start offering the best of our technology built over nearly 8 years to every business. Those who we know deserve to get the best out of their digital spend, who are sorely in need of tech tools that remove the stress and pain, we hear you!
Please join us in a private beta. Register your interest to join at no cost, no obligation now, at digivizer.com.
A version of this article is also published at digivizer.com.