Yesterday I was on a panel of technology CEOs and leaders hosted by the Australian Business Software Industry Association (ABSIA) discussing the challenges that face Australian Businesses today, and exploring what would be required to support a truly digital economy.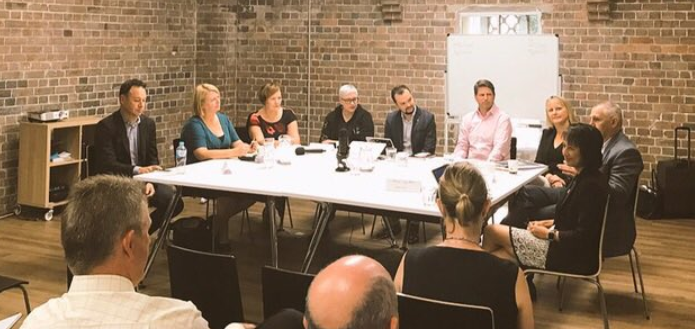 The other panel members, representing a cross-section from industry and government, were Deborah Ralston, Kate Carruthers, Marjukka Maki-Hokkonen, Ramez Katf (Second Commissioner and CIO, ATO), Stuart Korchinski, Trent Innes and Karen Lay-Brew, moderated by Matthew Prouse.
Ahead of ABSIA's own report on the discussion, here are my personal thoughts on where we are in this country.
Remove all constraints: be truly digital-first
Interestingly consumers are already digital first in their everyday actions. Our discussions related to how ready we were digitally in serving today and the future. In particular ABSIA asked the question whether Australia's software industry was big enough to be a driver of the changes required to support the future and if so, what would be required.
What was a rarity less than 10 years ago is now the norm: people transacting, in their personal and business lives, readily giving up their personal data, often through mobile devices, desiring (and increasingly demanding) fast connectivity at all times.
Yet businesses often remain bound up too much by where we physically are – in our thinking and our infrastructure. This can be local infrastructure implementations itself – just think how much time is wasted trying to physically connect to a screen in a meeting room – or broader infrastructure limitations – for example, our inability to access fast bandwidth for processing large amounts of data from anywhere. Just yesterday I was unable to send a large file to a government body due to their file transfer limitations. This government department would not link to a Google Drive or Dropbox, nor take a USB drive, so instead we had to separate a single (and relatively small) PDF into three parts. Needless to say, this is not spending time on high-value activities.
This is before we look at the much more serious competitive limitations around the speed and cost of data processing, which is much more expensive here in Australia relative to other countries, and much slower. According to the Akamai State of the Internet Connectivity reports, Australia regularly ranks 50th in country connectivity speeds.
And whereas we still tend to fix employees to fixed workstations or points here in Australia, we see the removal of these constraints in some industries such as retail, and in some countries entirely – China's consumers are operating almost entirely in a mobile world, including all financial transactions.
If we want to compete seriously, Australia's future needs to be about supporting businesses and consumers operating without infrastructure or device constraints of any kind. Whatever you want to do, wherever you are, however you want to engage, it should be not only possible but totally personalised within an enabled environment.
This requires a fast and (ideally free) ubiquitous network.
The real promise of data
Data is all about opportunity. As I write this, debate rages about data privacy. We do need to build secure networks and data housing, but the issues that arise tend to be more around ethics, building trust, and permission. Organisations that have breached their customers' trust have been punished throughout history.
For businesses the opportunity is to not focus on providing data infrastructure but rather to determine what questions we ask of data, and how do we want to engage, synthesise, transform and action data in meaningful ways that create value for the consumer. Unfortunately, infrastructure, speed, cost and connectivity become critically important: the closer your data analysis can get to real-time, the better-informed you are, and the more options around actions you have, also in real-time.
How do we choose to use data? How much data do we want or need? How comfortable are about the agreements we make with those with whom we share our data? These are decisions we are making every day.
If other countries are going to be able to hold and process data faster than we're able to, and can more easily afford to do so, that we will limit our ability to compete for the global customer without considerable infrastructure investment.
When we factor in that tomorrow's global workforce and consumers will know no other world than one rich on data and (mass) personalised offerings, we have some challenging questions to consider as a country.
One thing is certain, though: asking the right questions and determining how to action real-time data is the best advantage we can create for ourselves as businesses.
New dimensions for assessing skills
With the third of my three children now half-way through her high school years, I believe Australia's education system needs major overhauls to equip our children for the future. This is more than an emphasis on STEM, important as that is. Unfortunately, today our children can "do well at school" through focusing on repeat activities and by building strong memorisation skills. With all the world's information at our fingertips, this is not enough. With AI, robotics and machine learning impacting the way we work and the roles (and skills) required in the future, our advantages will come from exercising creativity, philosophy, ethics, and being able to think critically, take risks, and build, assess and refine strategies on the fly.
Already at Digivizer we are discarding any formal education as a measure of employment. Instead we look to hire on employees being able to demonstrate that they are smart, talented, infinite learners, get things done, and not assholes! We need people who are adaptable enough to a fast changing world full of many opportunities.
Back to our education system: I'm starting to see awesome pockets of capability being built through project-based learning when children get a mandate to build something, to create solutions to real problems and opportunities. These take form in fully fledged responses that include service offerings, websites, apps and new ways of doing things. This generation going through school don't have to learn to think digital: they simply are digital. They are better-equipped than those who are 10-20 years older than them to navigate the world of opportunities available in a digital economy. This becomes a key advantage – or disadvantage if we are not considering this in our workplace designs.
If we want to compete globally, Australia's education system needs to do a lot to help people think, more than how to remember. Talent needs to be defined and valued in new ways.
On the role of governments
Views on the role of government always seem to move between the government doing a good job and how the government needs to do more.  As anyone who has started and grown a business would attest, we are not playing victims expecting handouts. We are building great businesses based on determination, our own investment, grit and an appetite for risk. We have found a way – and have often overcome obstacles through sheer force of will. But with a population that represents just 0.34% of the global population, we need to be hyper-focused on how to compete globally. This is where we need the support of government.
The biggest benefits governments can provide are the infrastructure needed to be competitive and successful, updating our education system, opening up global opportunities for workforce and business, and financial incentives designed to support economic growth and value. The current R&D tax rebate incentive is an example of a good incentive designed to focus the minds of those seeking the rebates, so that true innovation, research and breakthroughs occur, but it is not enough.
As to future funding, we must ensure that the mechanisms for funding in Australia compete with those available overseas. Australian technology companies are receiving much more support at start up, yet need to go overseas for their next level funding – often never returning.
Final observations
As to the future of Australia's software industry, yes – I firmly believe we have the opportunity to influence and lead, but we need to have the political and business will to make this happen. We can be smart and get things done, but it really will come down to our speed of adaptation to the digital future and a global mindset.
To scale globally we need access to funds and incentives to stay. And we need digital infrastructure like never before. As panellist Marjukka Maki-Hokkonen, who was born in Finland, noted, a small population spread over a wide, inhospitable landscape need not be a barrier to investment. Finland built a nationwide mobile network that connects the entire country, including unoccupied tundra, and citizens and business have access to very low-cost superfast wifi nationally. Sound like a plan?
It did strike me that much of the emphasis on creating a common data model, policies and infrastructure was being supported and lobbied by our financial industry and yet this industry is itself ripe for disruption. It is critical for us to consider the empowered future consumer: to win their business we will need to compete in environments where everyone has access to so many options. Emphasis will be on empowerment and value, and the consumer will respond with their virtual wallets and votes.
Whatever the solution to infrastructure, customers will expect, demand and insist that these options, services and systems deliver value and are available to them on their terms. As businesses, it's our role to create the applications, product, services and capability that brings meaning to such infrastructure.
As always, the decisions and opportunities – as individuals, and as a nation – are ours to take.
This article is also published on LinkedIn.