The following article was published in the Manly Daily.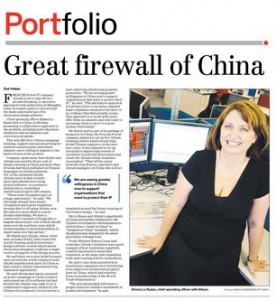 The article reads as follows:
Frenchs Forest IT company Altium is set to sign off on a ground-breaking co-operative agreement with authorities in Shanghai today in a smart quest to turn around the mass unlicensed use of its electronics design software.
Chief Operating Officer Emma Lo Russo flew to China on Monday promising a collaborative approach to the problem, including joint education initiatives and an amnesty-and-conversion program.  This will offer free Chinese-language training, support and special pricing for students and presently unlicensed industry users willing to migrate to the latest version of the product.
Company spokesperson Alan Smith said Altium was used for 80 per cent of design training in China and more than 20 books had been published in Chinese languages on Altium solutions. Yet, of the estimated 300,000 Altium users in that country, more than 290,000 were using pirated software, in a scenario well known to Australian intellectual property (IP) owners.
"Those sorts of numbers give us a huge opportunity," he said. "We obviously already have brand recognition and a great reputation because they're all using Altium, now the task is to move them to a moe formal relationship.  We have a conservative estimate of being able to migrate about 20 per cent of those 300,000 users over the next gour years which would translate to about $100million in export sales over that period."
Mr Smith said Altium, whose client base includes NASA, had created the world's leading unified electronics design software system which meant electronics designers could use a single tool for all aspects of the design process.
He said there were now 26,000 licensed users around the world compared with 300,000 unauthorised users in China so that country clearly represented a big expansion opportunity.
He said Altium had always pursued an active campaign in China to detect unlicensed use of its software but had decided the climate was right to try a collaborative approach, backed by the Chinese Government's recent moves to start enforcing intellectual property proection.  "We are seeing greater willingness in China now to support organizations that want to protect their IP," he said.  "The alternative approach would have been to use heavy-handed legal compliance measures but there is no evidence that that actually works.  This approach is to work with users, offer them an amnesty and real value to encourage them to move to a more formal relationship."
Mr Smith said as part of its package of measures in China, the Frenchs Forext company planned to set up five Alitum training centres which would train 40,000 Chinese engineers in the next four years.  It also planned to set up electronics engineering centers of excelence in selected universities and create the Altium-China Academic Association. "that will be a peer network of professors, educators and Altium managers in China who will set standards around the future training of electronics design," he said.
Ms Lo Russo said Altium's opportunity in China was further enhanced by the Chinese Government's determination to switch from a "made in China" to "designed in China" mentality which should generate demand for the latest generation of design tools.
Trade Minister Simon Crean said yesterday Altium's initiaitve was a good example of how Australian capability could be harnessed to assist that transition, at the same time expanding trade and creating jobs for Australians. 
He said it also demonstrated how Australian companies were benefiting from improved intellectual property laws in China, which had resulted from its membership of the World Trade Organization.
"The new partnership will ensure a proper return for Altium's investment in product development," he said.
Journalist: Sue Hoban, Manly Daily
Published: July 23 2008