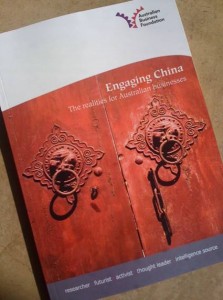 Emma was interviewed for an Australian Business Foundation publication called "Engaging China – The realities for Australian Businesses".
The Australian Business Foundation is an independent organisation undertaking evidence-based research to deliver fresh insights and practical intelligence to boost Australia's capabilities and global competitiveness.
The Australian Business Foundation undertook a study examining the current realities for Australian firms doing business with China. This study was led by international relations specialist, Dr Keith Suter with an expert team of senior journalist, Catherine Armitage and China specialists, Sara Cheng and Rab Memari of Australian Business International Trade Services.
It involved an analysis of the background to Australia-China business relationships and a series of 26 business case studies based on interviews with senior executives of Australian enterprises which have a substantiative history of doing business with China. The case studies include those for Altium, ANZ, CIROA Homewares, De Bortoli Wines, & Minter Ellison.
The aim was to analyse the actual experiences of Australian businesses operating in Chinese markets and to describe how they are developing their respective business strategies and sources of competitive advantage. This research project was designed to explore the opportunities and problems addressed by these businesses as they seek to enter, expand and maintain a competitive position in Chinese markets.
The findings provide a reality check on what is occurring on the ground, delving beyond perception and expectation of China's growth representing either a windfall opportunity or a competitive threat to Australian business.
From the direct experiences of Australian businesses, this study aims to identify the critical issues that can prove decisive in whether businesses are likely to be successful or not in their engagement with China. These are the issues that other Australian enterprises need to attend to when they are considering how to build their own business in Chinese markets and to achieve their particular aspirations.
"Australia use to be concerned about the 'The Tyranny of Distance' now with the rise of Asia and China in particular we can more rightly talk about 'The Power of Proximity'.
"This report shows that Australia's engagement with China is more than 'rocks and crops' and with more Australian companies involved than just BHP Billiton and Woodside. According to Austrade research there are nearly 4500 Australian SMEs exporting to China (more than to continental Europe) and 3000 Australian companies with operations physically in China. Australian construction firms are building Chinese highways, Australian architects are designing the airports and sports stadiums of the 'second and their tier' cities in the interior, Australian agribusiness companies are training Chinese farmers and Australian tourist operators are helping develop China's domestic tourist market.
"In short, there is 'panda-monium' amongst Australian exporters for the Chinese market and Australia's economic engagement with China will widen and deepen in decades to come.
Tim Harcourt
Chief Economist
Australian Trade Commission
Further information can be found at http://www.abfoundation.com.au/research_knowledge/research/195