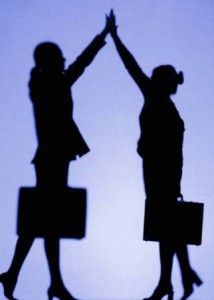 Recently I was asked to support FITT's Mentoring Program in the capacity of interviewer to help assess and match the right mentor to the mentee candidates. 
 FITT (Females in Information Technology and Telecommunications)  run a dedicated Mentor program connecting experienced and senior women with up and coming managers and executive women within the industry.  Mentors volunteer their time and range from CEOs, CIOs, COOs, Executive Directors and HR Directors to Senior Architects, Project Directors and Senior Business Analysts. These women are impressive – with significant achievements and scope of responsibilities and sit at the top of very well known top organizations in the technology and telecommunications space. 
Mentoring generally refers to a personal developmental relationship in which a more experienced or more knowledgeable person helps a less experienced or less knowledgeable person.  It provides an informal transmission of knowledge, social capital, and the psychosocial support relevant to work, career, or to personal or professional development.
With huge gender representation divides in boards and senior management across all industries, this program provides a structured support process for these high-achieving women who are already at the top, to share their journeys, their experience and tips for overcoming any barriers with others still on their rising journey.
Ultimately it helps demystify the path, approach and strategies taken and is designed to help address gender imbalance and the question of "how do we get more women to the top".
Although the mentees obtain great insight and knowledge through the program, the Mentor's who operate in this capacity, also see the benefits. 
Here are the main benefits of mentoring shared by these inspiring women:
Rewarding

– each Mentor recognized the great satisfaction and reward gained at a personal level when helping someone else learn, grow and develop their potential, their confidence and their skills.  There were many "proud" stories shared of helping others through promotions, major projects and major decisions.  Many previous mentor relationships had developed into friendships and mutually-rewarding business relationships where both parties felt they had learned much from each other and enjoyed the connection and history they had shared together immensely.

Recognition

– each Mentor could share a story of how someone had helped mentor them along their path to the top.  They recognized the value in having a powerful role-model, someone to share their experience and wisdom and connected this to their own learning and support at critical times in their own career progressions.  Mentoring was seen as a gift for helping them and it was now time for the gift to be passed on or as a way "to give back".**

Growing

– each Mentor sees mentoring as an opportunity to grow themselves.  By taking time out to help someone else, they recognized that they would benefit from self-reflection, from learning about someone new and their different experiences, from the language and skills you use as a Mentor.  Often a mentee will push the mentor with their questions, suggestions and probing. These relationships were seen to be mutually sharing and beneficial.

Motivation

– each already had a passion for developing people, however mentoring others was seen to be motivating and re-invigorating to themselves.  It helped them push themselves, to revisit their own strategies and challenges, to recognize the strengths in others and in making them more aware of their own strengths.  It helped them revisit and retap their own drivers of what makes someone successful and more importantly what makes them successful.  By taking time out to share experience and knowledge, it unlocked additional wisdom and energy to be applied in new ways.
Many of these women shared their challenges of being a woman in IT.  It is wonderful to see so many of these women now providing real employment opportunities, creating flexible and supportive work cultures and in actively helping other women break down barriers and stereotypes. 
I enjoyed the interview process immensely and commend these women for taking time out of their busy schedules to share their experience, knowledge and wisdom to help promote the next generation of women leaders.
There are real benefits in Mentoring others – and this is not just for women.  So if you see an opportunity to Mentor others outside of your direct report lines, I encourage you to take the opportunity up. 
Enjoy the growth, rewards and motivation that will be yours.
** You may be interested in reading this article on returning the gift of experience. Read more>