As we progress through our careers we gain the benefit of experience.
The situations we find ourselves in become more and more familiar.  We meet the same type of personality profiles, we see the hidden opportunities in adversity, and the kind of traps or dangers in the decisions we need to make or in situations that we can create or avoid.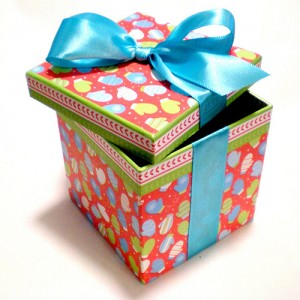 We also benefit from having a much stronger understanding of our own powers and limitations, having already navigated what it takes to progress, communicate, motivate or manage others.  Mostly we have the benefit of having a number of wins and failures on the board and knowing why and what results in success, and why and what lead us to experience failure.
This experience and knowledge is a gift.  Something we should cherish and relish.  It is also something we should share.
As the saying goes, it is much better to give than to receive.  And although it is not kosher to return the gift you have been given, there is something wonderful about returning the sentiment.  Adding your stamp of personalization, consideration, love and attention can create a lasting impression. 
The positive impact and empowerment you can generate by giving someone the time to help them with their particular concerns, queries or quest for knowledge, through sharing your experience can not be underestimated.
Looking back I can name a number of great people who "gifted" me their experience or who helped guide me along my way.  Some of my greatest mentors and guides were my managers, but more often than not the greatest counsel and sage advice I received (and continue to benefit from), was from wise and experienced colleagues, associates, contemporaries and friends.
It was from them that I learned how to navigate tricky waters, what to look for and what to avoid.  That mistakes and failures are to be considered great learning experiences, challenges to be explored and gained from. 
Some of the best lessons I learned early on was that mistakes don't need to be fatal. That you'll never know how far you can go and how much you can achieve if you don't push yourself to the very edge.  That the biggest opportunities also come with the biggest risks and a fear of failure is really being cognizant of that fact. That it is silly to try to avoid mistakes which may result in having a risk profile so low that we don't really move forward leaving the brave decisions to be made by others.
You also gain strength from others encouragement.  When may already know what the right thing to do is, but to have it reinforced and supported by an appropriate anecdote or example from someone else's experience provides the much needed impetus to move forward.  It can help to have your strengths and talents reinforced to be applied in new situations. 
As our experience grows, so we should "gift" this to others.
There are many opportunities to positively impact.  To help those who are starting out, still green, still learning, who would benefit from a great dose of your encouragement and knowledge.
With each promotion or progression in our careers, can we dedicate time to give back and grow others?  To make time to mentor someone (or a greater number of people) that we identify as talented?
 To stop and help them find the answers they are seeking and to help them develop and perform to their potential.
From my experience, gifting others time and experience bring numerous benefits.  And not just the feel-good emotion it will surely generate. 
It provides an enforced discipline for us to synthesize our experience into insightful clarity.  Moments to mine the wealth by revisiting our working lives and review what really worked for us and why.  To turn the many grains of experience into valuable pearls of wisdom.
It also helps us to reflect and recognize where we still have room to learn or develop.
So I ask this question, how can you share more of your experience with others?  If you are already doing this consciously or unconsciously, can you do more of it? 
Whether you offer this through formal mentoring or coaching or through informal mentoring and genuine sharing, listening, advising others, there is nothing more rewarding than giving to others and to see them grow greater from the collective experiences. 
Not only can you help someone progress you may find in turn, you have gifted yourself another valuable experience.