The following  article was published in China Business News daily (CBN Daily).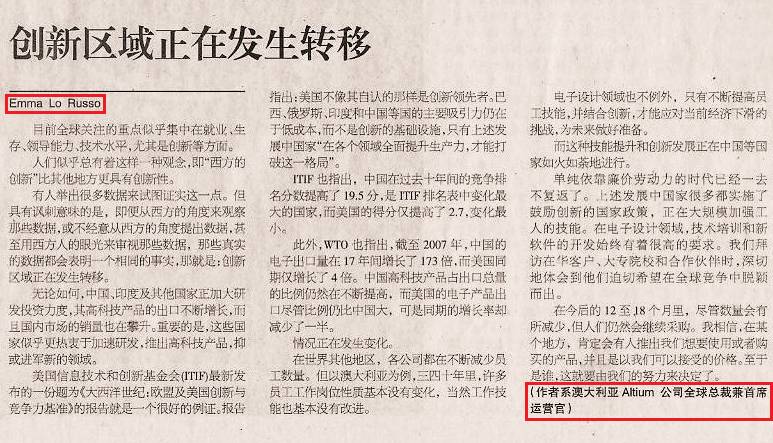 Here is the story in English:
"Our innovation is not superior to theirs"
A fixation seems to be appearing in the worldwide debate about jobs, survival, leadership, technical excellence, and perhaps most markedly, innovation.
 It's a fixation that, somehow, "western innovation" is "more innovative" than other regional innovation, especially innovation emanating from "the east".
 In this era of global trade, global travel and global connectivity, this somehow seems foolish at best.
 Time and again, data is presented from that perspective. What's ironic, though, is that even if we view those data from a western seat, and even if the data are presented through western filters (even inadvertently), and even if those data are read by western eyes, the data still say the same thing: innovation is shifting.
 By any measure, China, India, and other countries are investing more in R&D, are exporting more high-technology goods and are selling more to internal markets. Most significantly, they seem more enthusiastic about either accelerating these effects, or moving into new areas.
One example is a new report from America's Information Technology and Innovation Foundation, called The Atlantic Century: Benchmarking EU and US Innovation and Competitiveness. Even as the report states that the US is not the innovation leader it thought it was, it goes on to say, "Many nations that get much of the attention as competitors in the innovation economy… including fast-developing Brazil, Russia, India and China… actually score at the bottom of the rankings… The main attraction of these nations remains their low costs, not their innovative infrastructures, and this situation will remain likely for many years, at least until they raise productivity in a wide range of sectors."
 Yet China has changed its ranking score by 19.5 over the past 10 years, and is top of the ITIF's table for change, while the US has changed its score by 2.7, and is bottom.
 Elsewhere, the WTO reports that China's electronic exports grew 173 times in the 17 years to 2007. The US grew four times. The proportion of total exports from hi-tech goods also grew in China. The US, albeit with a much larger proportion, halved.
So something is changing.
In Australia, the closure of its factories by Pacific Brands triggered the predictable, sorrowful outcry about Australian jobs, with just a hint of how shocking it is that these jobs are going 'somewhere overseas', meaning China. Yet many of these workers had been at Pacific Brands for 30 or 40 years, doing essentially the same jobs, certainly with essentially the same skills.
It's re-skilling over and over again, combined with innovation, whether it's in electronics design or clothing, that should set the agenda for managing the current economic downturn, and preparing to the future.
This is what is happening in countries such as China.
It is no longer about so-called cheap labour. These nations, in many cases under national policies, are re-skilling en masse. In electronics design, the industry in which Altium operates, the appetite for technical training and new development software runs unabated. Altium, as one example, is growing sales in China three times faster than overall. When we visit and meet with customers, universities and partners, the desire to be ahead of the rest of the world, along with considerable self-belief, are obvious.
Our future, as individuals, as companies and as nations, is in our own hands. Governments should focus on investments for companies that re-skill over and over again, that reinvent themselves over and over again. Individuals should clamour for these new skills, preferably building on those they have already.
But let's not blame others. We will continue to buy underwear, cars, fridges and mobile phones. We might do so in fewer numbers in the next 12-18 months. But someone, somewhere, will make products we want to use or own, at a price that we are prepared to pay, for the quality we expect for that price. As to who this is, is down to us.
Published: Friday April 10, 2009
About the publication:
The China Business News Daily is considered the most influential daily business newspaper published nationwide. CBN Daily is 100% focused on the key issues and current affairs that have significant impact on the macro economy and the business world. The newspaper provides information and insights for business leaders and affluent professionals across China.