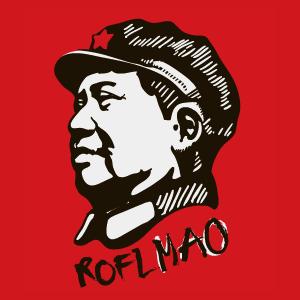 "TITF" (pronounced tit-ef) my nearly 14-year old son said to me as I lectured him on his responsibilities. 
"What?"
 "TITF – you have Taken It Too Far" he said as he rolled his eyes and sighed again in frustration.
Well yes of course I have.  I used words not acronyms for one thing.
Within days of this experience my friend told me about her 17 year old daughter who looked deadpan at her as she completed a joke and said without a hint of sarcasm "lol". Clearly using the abbreviated form of "laugh out loud" was more efficient then actually breaking into laughter or even smiling. 
Another friend told me of his son who had an intriguing t-shirt on – one with a picture of Chairman Mao on the front with a picture of Rolf Harris on the back and the word "ROFLMAO".  Obvious to his son and his friends (and probably anyone under the age of 21) was the clever use of these images with a well-known instant messaging short-hand statement.  To the uninitiated, this stands for "Rolling On Floor Laughing My Arse Off".
My six and ten year old daughter's are learning mathematics through an online tool that not only provides relevant and prescribed homework activities, but allows them to "dual" with anyone at the same level who is online anywhere around the world. Assuming that they don't want to just work to improve their personal best and total scores which allow them to move up levels and win prizes.  
If they play with their Nintendo DS's together or with friends – they can link up, see each other virtually and send visual or text messages to one another. They learn through interactive smart boards and are encouraged to remember their security log-in and to email their "safe" friends at school.  Online G-rated games allow them to collect virtual points then shop for branded goods – often advertisements for the latest and greatest toy or gadget slyly marketed as movies. 
Don't worry about spelling – they happily use and rely on auto-correct and voice recognition tools saving their minds for more creative pursuits.
And these are just a few examples of how, where and when technology forms part of their lives already at such a young stage.
It thus makes for an interesting time for any business who wants to appeal to and attract a younger audience – whether this is as potential customers or as employees.  Technology is deeply integrated in their lives and is considered as important to them as oxygen is to the rest of us.  This is regularly reinforced to me as I use the threat of technology bans as my preferred tool to generate positive behavioural change in my children. 
Technology is how they connect, communicate, conduct relationships, learn, evaluate, play, shop, design, share, promote, read, relax and even simply be a fan of their favourite band and brand.  They are able to read moods, decipher genuine and honest representations, find and filter quickly to relevant information and multi-task across multiple platforms.
They connect and share information through SMS, Instant Message, FaceBook, MySpace, Twitter, Linked in, Bebo, Orkut, QQ, or their personal blogs.  They share information in groups and communities all of which take precedence over checking their 1 to 1 email (most applications are not smart enough for the way they wish to engage when you can reach 1 to many through other mediums). 
They scan a web page, click and watch the first seconds of a video to see if they will give you the next 10 seconds of their attention.  Communicating your message quickly and succinctly is no longer an art, it is a necessity to get cut-through and engage this generation. 
In business, we increasingly rely on technology to manage most aspects of our customer and employee relationships and engagements.  While there is much value in face to face daily transactions, I have seen first-hand the smartest and brightest employees sitting a metre apart instant messaging each other rather than engaging in verbal communication. 
It is not that they can't verbalize, it is just they find instant messaging a much more efficient form of communication.  There is much to be said and done, and abbreviating it, using shortcuts or forums to share solutions easily changes the scale of reach from 1:1 to 1: infinite. And this is able to be done much more quickly and efficiently than ever before. 
Sharing knowledge and thoughts instantly in forums and in collaborative enterprise wiki's now forms the basis for other's future education.  It can act as a referencing and training tool for employees, partners and customers.  It is easy to see how it has more potency and is far more powerful than communicating individually and sequentially.  Collaborative documentation tools make easy task of finding, reviewing and tracking of content that can be accessed by many.
Many years ago when I joined a progressive technology company, I joked about how I was the "technoignoramus" of the company.  I knew if I didn't actively seek to understand, embrace and use the latest technologies I was going to become irrelevant, maybe even extinct. 
Recognizing that there was a gap in my knowledge regarding emerging technologies, I made it my business (and eventually helped me lead the business) in determining how, when and what were the best ways to leverage these new technologies within our products and our enterprise solutions.
This resulted in a growing of the product development roadmap and changing from heavy self-developed software applications to those that were available and supported in the internet "cloud" – much more accessible and beneficial to our moving global workforce. We were able to reduce communication costs through the use of Skype and deliver extended customer training programs using video and having it supported through YouTube.  
Today I still continue to seek knowledge and look to participate in using new and available technologies in order to better understand them. I will play with them, use them, observe others using them, read about them and link to them. This has formed an important element in the role I now play in assisting other businesses and individuals understand where technology fits into their overall business, marketing and customer engagement strategy and see how best they can be leveraged.
With all of this technology around us, it still surprises me how many baby boomers and generation X's still resist embracing new technology and social networking platforms. 
They cite discomfort about strangers knowing something about them or the arduous chore of sorting through meaningless messages to find those of interest or value.
The one I have seen many shudder at is the concept of "follower" on Twitter.  Somehow this is equated as "stalker" to some.  Certainly in business if you have a bunch of potential customers and partners interested enough to stalk you, this can only be a good thing, right?  They actually tell you who they are, tell you they want to follow you so that they can hear what you have to say, and to whom and what you recommend.   And you can choose what it is that you share with them.
At a personal level it is about understanding the different available platforms, the controls you have and the intent of the people you choose to "friend" or "follow" and who you allow to follow you. You need to be comfortable about what information you provide and finding your comfort levels about reading and seeing information about others.  One of the rules I follow is one I was taught many years ago – don't ever write anything you would not wish to show your grandmother or would not want published or have attributed to you on the front page of the national papers.
 Advantages of using technology are many – especially in being able to stay abreast of your own personal data and of others that you are interested in, their life successes, major events and challenges.  I recently easily organized and could keep track of both a common interest group and a family event using Facebook. 
I am able to take my office everywhere with me on my iphone which can double as my entertainment tool allowing me to watch the latest TED video or listen to my favourite songs.  I can publish my own blog through WordPress (which has surprised and thrilled me at the size of my readership).  I am able to easily keep in close contact with global friends and colleagues.  I have been able to meet people and new businesses and have opened up many new relationships or rekindled older relationships that previously were either dead or dormant through using a combination of online networking and communication tools.    
There certainly can be no safety in the expression "technology is not for me" or "technology is too scary" or "I delegate technology to others".  I fear for those who take confidence in standing behind the good old days with statements like "I believe in personal, intimate face to face interaction and in protecting my privacy and those of others".  In the past fortnight I have personally heard each of these statements.  And unfortunately, none of them for the first time.
I know I don't know everything.  In fact I am far behind many leading technology pioneers.  But I make it my business to become an early adopter and stay abreast of technology trends and changes. This helps me understand how they are utilized, where they work and fit in to the bigger personal, social, product roadmaps and commercial pictures.  I see this as part of a strategy to help me stay relevant now and into the future and I urge you to do the same.
To be able to engage and be relevant to the broader population, especially the generations that follow us, both you and I can not afford to be a technoignoramus. 
If you choose to stay closed to embracing and using new technologies, your days of being relevant or being heard or understood by others may in fact be numbered.