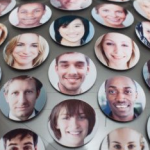 Social Media is not just for the geeks, techos and the under 30's. No manager can ignore the increasing power and influence of the social web.  People are connecting, sharing, listening, influencing, growing the relevance of their networks every day.
It is easy to see that as technology advances at such rapid rates, the rules of marketing, customer and employee engagement have changed and must continue to change.
Most managers accept you can't ignore the social web.  The question really becomes for each of us:  "How can I add value to my organization in determining where and how the social web can be leveraged to deliver solid bottom line outcomes?"
Connecting the social web to organizational value:
Building your brand is largely based on how your brand is perceived by your customers.  You don't own your brand  – your customers do! Your customers are already choosing to watch, connect, discuss and engage with your brand.   Aden Young of DigitalBuzz noted in his December post "that 67% of people on Twitter follow a brand (that they will purchase), in comparison to only 51% on Facebook. Yet on Facebook 40% of all people follow a brand in comparison to Twitter's 25%."
Easy to conclude that the social web should not be seen as an add-on channel, but rather an extension of your business, providing customer information and the means to engage that should integrate into every aspect of your business.
Opportunities include: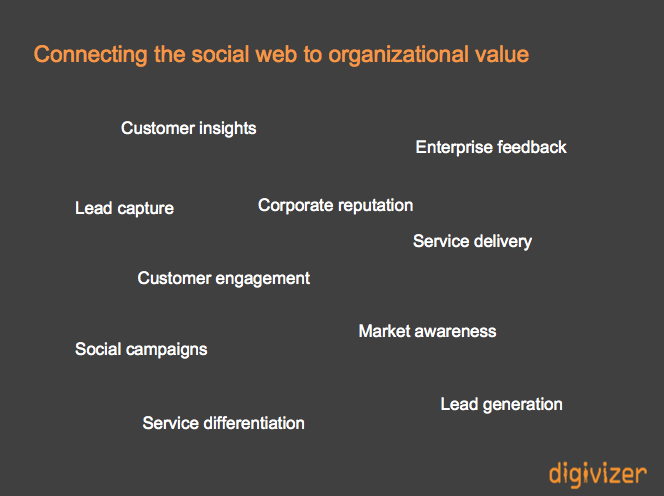 WHAT QUESTIONS CAN AND SHOULD YOU BE ASKING?
Here are just some of the questions you can be asking your organization.
Customer Journey – how is this being captured and managed from possible interest>engagement>purchase>repeat purchase>advocate>evangelist> influencers?
Social CRM – how and where does (& can) the social media insights fit into the broader marketing and customer engagement, sales and support strategy?  Your communications strategy? How is this being integrated and implemented in real-time?
Lead generation strategy – where and what is involved in leveraging the triggers provided within the social web in relation to your known customers and your ideal customer target markets?
Employee Power – How does your digital strategy allow for you to grow, harness and leverage your employees? Your partners? Your franchisees? What is their role in this? How can they be involved in utilizing social media? What guidance and more importantly, permission and encouragement do you need to provide?
E-Commerce – Thinking beyond "bricks and mortar" and your current go-to-market model, where and when will your e-commerce platform sit within this? Where and how do you drive traffic to and from this site?
Retailing – How can you grow your online brand and customer engagement to drive traffic into store?
Business Information – How are you overlaying the insights gained from the social web as it relates to your customers,markets and ideal new customers and markets?
Measuring – How do you measure all the above?  Once you embark on a digital strategy that includes leveraging the social web, how can you be sure you are being successful?  What measures, insights and returns can you gain? How real-time is this?
These are just a few questions to start the ball rolling.   What else do you think should be added to this list?
How can you (the non-geek/non-social web expert) get involved in harnessing the social web and add even more value to your organization?