Emma Lo Russo offers five tips (to electronics organizations) for grasping opportunities created by the downturn.   Read the article as published in Electronics Weekly, 24 June 2009, and as promoted on the cover page and published on page 10.  Electronics Weekly targets electronic product organizations and electronics engineers.
Full transcript of article below:
Recessions get a bad press.  But they are really opportunities with halitosis.  Once you get over the shock, you can set to and work with the opportunities to create breakthroughs.  It's all about channeling recessions in a positive way.
The electronics design sector is ripe for this kind of thinking.  The current recession can be deployed in your favour, to blast away the staid thinking that abounds in the sector.  That things are done the way they are done because they have always been that way is a common refrain.  Time it went the way of the thermionic valve.
Here are five tips, made with appropriate humility, that reflect the opportunities for change under the cover of the current recession:
Innovate
Nothing that has gone before will be good enough for the future.  This is code for "innovate" and innovate means doing different things in different ways, not doing things better.
So take a holistic approach to electronics design that starts with the broader desired user experience.  How do they want to interact with your product (not how you want them to interact)?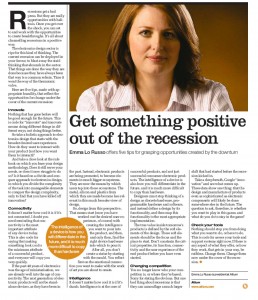 And take a close look at the rule book on which you base your design methodology.  Does it still serve your needs, or does it now struggle to do so?  Is it based on a divide-and-conquer approach to electronics design, in which you divide the complexity of the task into manageable elements to conquer the design comlexity, only to find that you have killed off innovation?
Connectivity
It doesn't matter how cool it is if it's not connected.  I doubt you need reminding that connectivity is the most important attribute of any device today.  This is also code for saying that making something look cool is the minimum attribute of a successful product, and everyone will copy you very quickly.
If the past 40 years of electronics was the age of miniaturisation, we are already well into the age of connectivity.  The next generation of electronic products will not be stand-alone devices, as they have been in the past.  Instead, electronic products are being promoted, to become elements in much bigger ecosystems.  They are now the means by which users tap into these ecosystems.  The metal, silicon and plastics from which they are made become less relevant in this much broader view of design.
So, design from this perspective.  That means start (once you have worked out the desired user experience, of course) with creating the intelligence you want to pour into the product, and then, and only then, find the right device hardware into which to pour it.  After all, you don't create a statue by starting with the mould.  You reflect first on the emotional connection you want to make with the work of art you are about to create.
Intelligence
It doesn't matter how cool it is if it's dumb.  Intelligence is at the core of successful products, and not just successful consumer electronic products.  The intelligence of a device is also how you will differentiate in the future, and it is much more difficult to copy than hardware. 
Designers must stop thinking of a design as discrete hardware, programmable hardware and software, and instead define a design by its functionality, and then map this functionality to the most appropriate implementation.
The true value inside tomorrow's products is defined by the soft elements of the design.  These soft elements should be the focus and the place to start.  Don't constrain the critical properties, its function, connectivity and the user experience of the end product before you have even started.
Changing competition
You no longer know who your competition is, or where they're based.  Sorry for stating the obvious. But one bad thing about recessions is that they can camouflage a much larger shift that had started before the recession kicked in.
Take a deep breath, Google "innovation" and see what comes up.  These data show one thing: that the design and manufacture of products even as sophisticated as electronic components will likely be done somewhere else in the future.  The question to ask, therefore, is whether you want to play in this game, and what do you do to stay in the game?
Check your tools
Nothing should stop you from doing what you want to do, or have to do.  This is code for assess your tools and support systems right now.  If there is any aspect of what they offer, or how they work, that gets in your way, be ruthless.  Change them.  Change them now under the cover of the recession.